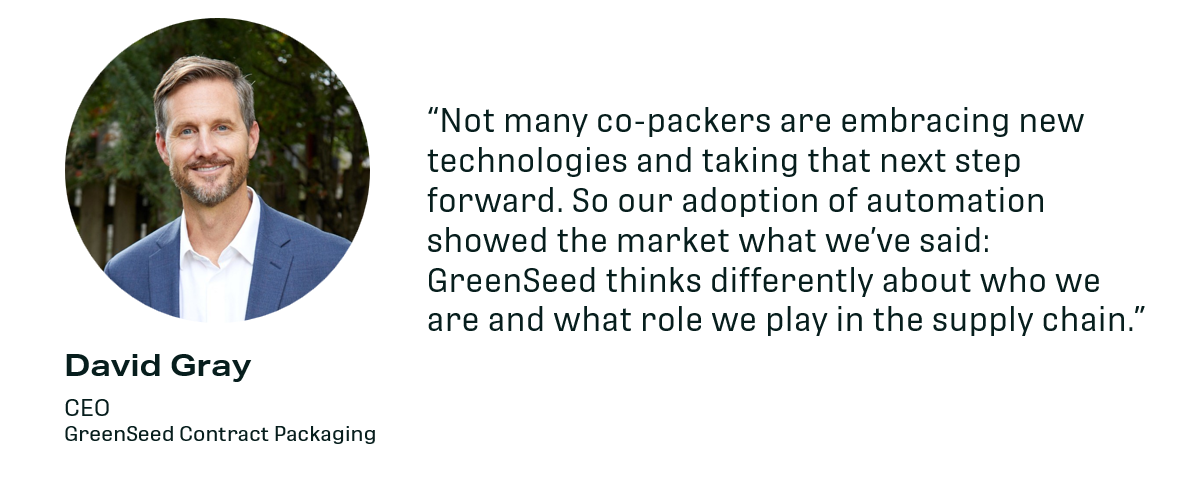 The Company
GreenSeed Contract Packaging was founded in 2009 in Batavia, IL, and manages packaging operations for large and middle market consumer packaged goods companies. Their focus is on natural foods and sustainability, and they pride themselves in supporting their customer brands with exceptional standards and service. They're always looking to innovate and advance production lines to address inevitable supply chain disruptions, ensuring brands get products to market on time and with high integrity.
GreenSeed's success has led to continued employee growth, upmarket channel expansion, and an award for their CEO, David Gray. In 2021, GreenSeed was awarded the Green Ole Award for its innovation in reducing waste and improving energy conservation operations for food manufacturers.
We spoke to both David and GreenSeed's Director of Operations, Hector Leon, for this story.
The Challenge
The success of GreenSeed has also led to some challenges: how can a contract packaging company maintain quality standards across a growing and diverse set of customer orders? This growth also comes at a time when manufacturers are struggling broadly with an unprecedented labor shortage, supply chain challenges, and inflation.
GreenSeed is packaging products at incredible volume. During their peak seasons, GreenSeed reaches production volumes of over 10 million products in one month.
Aside from sheer volume, another point of concern was the unpredictable nature of contract packaging. The customers of contract packagers are typically unwilling to sign longer contracts, which can prevent them from deploying automation with total confidence. What if their biggest customer cancels? Will the expensive automation system they just invested in require costly and lengthy reprogramming?
David Gray, GreenSeed's CEO, put it this way: "Our automation roadmap used to be heavily reliant on our clients, large global CPGs, where we needed a multi-year runway to build a process that could use robotics in manufacturing … When you're thinking about investing in a system, you're typically looking five years out, and I don't think any CPG brands are interested in doing a five year contract. They feel that there's too much risk to locking in."
On average, GreenSeed is changing over their production lines about once a week. Hector Leon, the Director of Operations, had been eyeing robotic automation for years as a solution to GreenSeed's labor constraints, however, they had never actually taken the steps to invest. They had been waiting for the right partner and the right solution.
The Solution
They found that partner in Formic. The first step was to learn about GreenSeed's customer mix and seasonality. Next, we walked GreenSeed's facilities to spot the opportunity for automation with the fastest and highest return on investment, which was palletizing.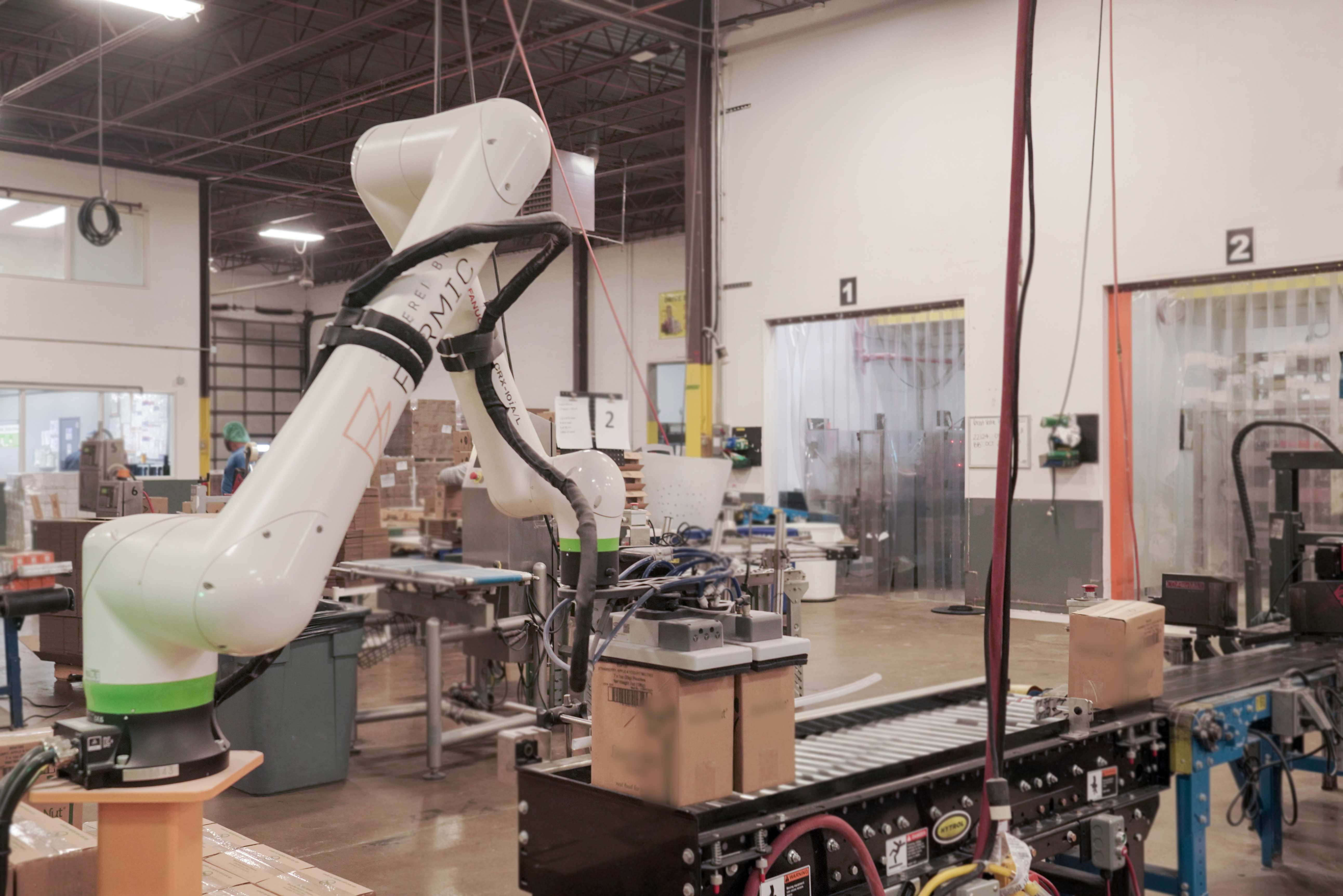 We then designed and deployed two customized collaborative palletizing systems on two different production lines that can be moved by the user to accommodate for product changeovers.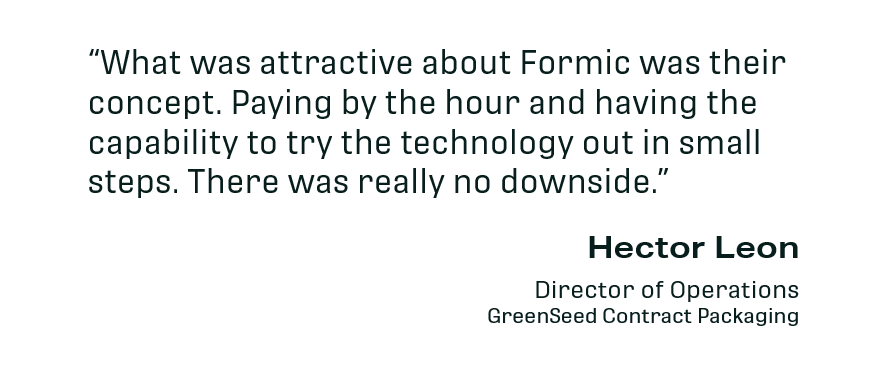 GreenSeed was attracted to the idea of trying out automation technology without the typical capital outlay and assumption of risk. Added Hector Leon: "What was attractive about Formic was their concept. Paying by the hour and having the capability to try the technology out in small steps. There was really no downside."
Since we price based on system usage and uptime, we wanted the exact same thing as GreenSeed: consistent, reliable production at the lowest possible cost, regardless of shifting product mix and volumes. We are not in the business of selling equipment; we are in the business of delivering outcomes.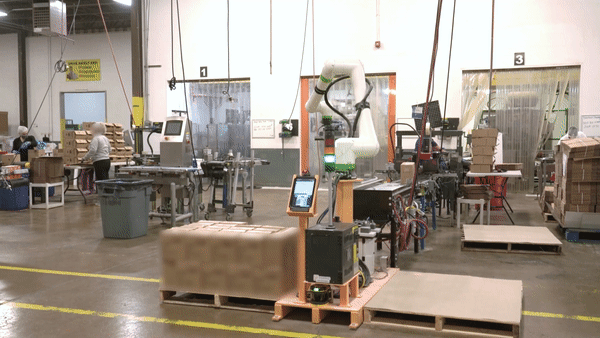 The best robotic arm for the payload, throughput, and floor space was the FANUC CRX10iA/L, and we worked with manufacturing systems integrator HCM Systems to design and deploy the systems, complete with safety sensors and custom end of arm tooling. Currently, operators are manually packing and sealing cases prior to being palletized, but Formic is working with GreenSeed to automate this with a system from Blueprint Automation.
Each system is capable of handling 10 different SKUs, combined payloads of up to 17.5 pounds, and up to 10 cases per minute. When operating over two 10 hour shifts, this amounts to 12,000 cases each day!
The Impact
These two palletizing systems reduce the need for 1-2 operators to stack boxes, allowing them to focus on other tasks in the facility, saving GreenSeed a total of about $35K a year in labor-related operational expenses. This has also reduced GreenSeed's reliance on staffing agencies.

Gray envisions that the introduction of automation won't impact the overall number of employees in the GreenSeed facility, but rather, change the nature of the work. "The vision is that the technology is going to help us be more competitive and serve as an educational platform for our people. We're not looking to let anyone go, we're looking to move them into better roles."
Beyond immediate cost savings, GreenSeed's customers are happy to see it adopting the latest automation technology. "Our customers have also given positive feedback when they are on site and see the Formic systems. They like to see that we are using technology to advance our operation for them. They want to see us keep taking things to the next level," added Leon.
"I don't think there was a single company that wasn't impressed by what we are doing, and looking across the board, they had a lot of comparisons," said Gray of GreenSeed's customer base. "Not many co-packers are embracing new technologies and taking that next step forward. So our adoption of automation showed the market what we've said: GreenSeed thinks differently about who we are and what role we play in the supply chain."
Automating has also brought a morale boost to GreenSeed's employees. "I remember the first day when the Formic system was installed. They were looking over at the robots in awe, asking if they could take pictures, and they were really excited to tell their families about this new technology that they got to work with. They were so happy," said Leon.
"When we brought in the new technology, I think our employees were just amazed. There was this 'wow' moment. We weren't met with fear at all," added Gray.
Most importantly, with Formic, GreenSeed can instantly scale its automation efforts without relying on slow capital budgeting cycles. The traditional method of purchasing and deploying custom automation systems across multiple lines can take years, and in many cases, simply doesn't happen.
By turning automation into an operational expense, companies like GreenSeed can save money from the very first day that a system is live, which allows for instant scalability.
We've already begun planning for the deployment of a case packing system that will reduce labor requirements from 4 workers to 2, further increasing GreenSeed's cost savings, and we look forward to continuing to build on our early successes with more automation projects to come!