First, what are "as-a-service" models, and why are they gaining popularity?
"As-a-service" models are defined by a good or service being made available "as needed" (this could be monthly pricing or usage based pricing). Upfront costs are usually negligible or non-existent. Contract lengths are flexible, allowing users to take advantage of the good or service only as they need it. The business assumes the responsibility for servicing and upgrades throughout the duration of the contract.
These models have exploded in popularity due to the instant flexibility, scalability, risk reduction, and cost-savings that they enable, particularly in this era of unprecedented uncertainty and rapidity of change.
"As-a-service" business models are rapidly gaining traction across many verticals. This is a well-documented trend in the software space; software-as-a-service (SaaS) is now the industry norm, and is far more common than on-premise solutions that dominated the industry in the 90s. This trend is not limited to software. According to Forrester, businesses should prepare to compete with "anything-as-a-service."
Flexible financing programs, such as leases, have existed in the robotics industry for a long time. However, those models only relieve a portion of the complexity of a true "robotics-as-a-service" offering.
The flexibility and scalability of "as-a-service" has the potential to change the way manufacturers operate. That is why we built Formic.
So what does a complete "robotics-as-a-service" model look like?
Manufacturers know that deploying robotics requires far more than buying a machine and plopping it down on a factory floor. Every application has a unique task to execute within a specific process. The fun (and challenging!) aspect of this specificity is the considerable amount of work that goes into application design and engineering before a robot is ever procured and deployed. It is also important to consider the hard costs of both the robotics and ancillary components like grippers and sensors.
At Formic, we take all of the components of an application deployment, and bundle them together into a single hourly rate, which typically amounts to 42% less than companies pay today in their operating expenses.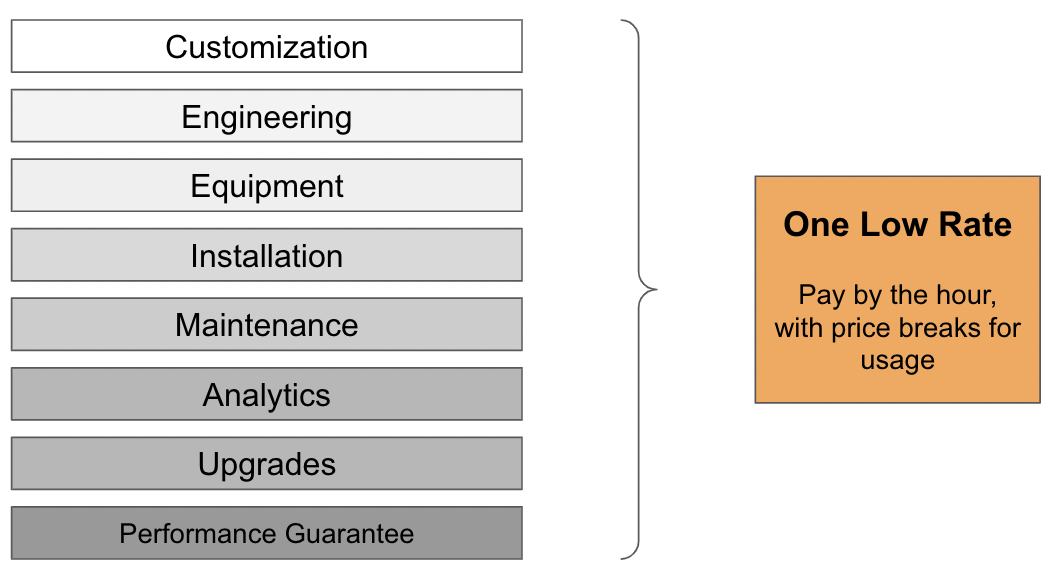 How is Formic's RaaS model different from the way robots are purchased and deployed today?
The process of purchasing, customizing, and deploying a system is long, complicated, and fragmented across disparate stakeholders. Manufacturers will typically work with a Systems Integrator, who will determine the requirements of an application, handle the engineering work and customization, and purchase the relevant equipment and components. Customers with more in-house engineering muscle might purchase from a robotics OEM directly and handle the engineering work themselves. Customers without access to large stores of capital will also engage with equipment financing companies.
Here is a diagram that shows how Formic's "robotics-as-a-service" model differs from the traditional fragmented approach of deploying automation. Our model offers "one hand to shake" simplicity.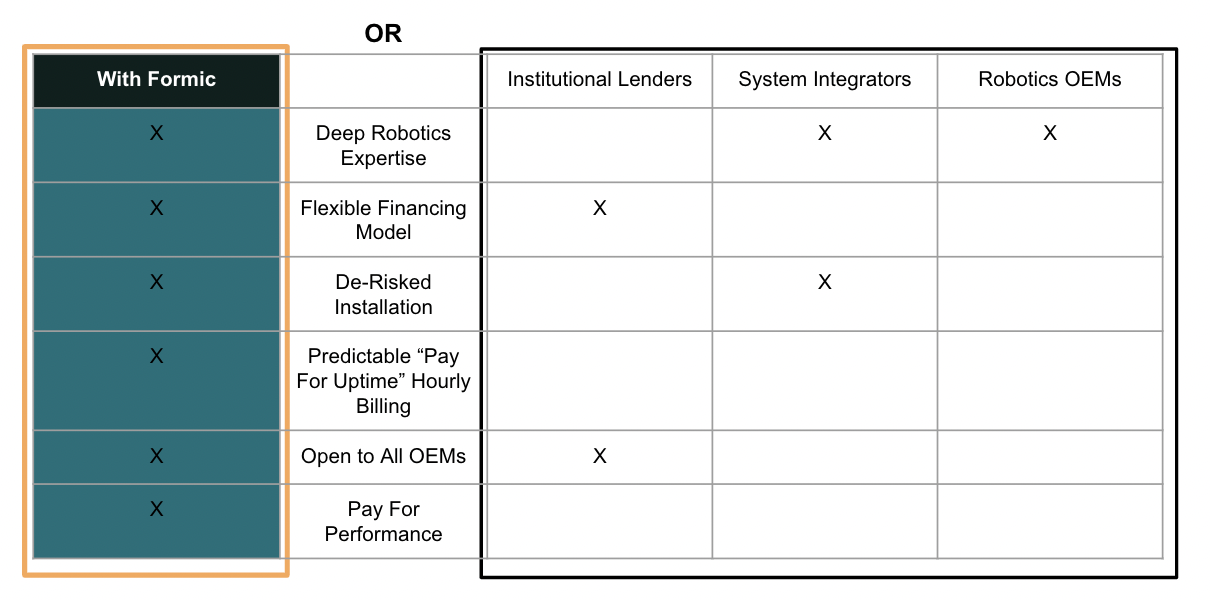 We typically see companies run into one or more of five barriers to entry with purchasing robots upfront:
Time:

Vendor selection and project management for a deployment can be incredibly time-consuming, and many end users simply don't have the time to execute

Capital:

Large upfront CapEx investments are expensive and slow to budget for

Expertise:

Lack of in-house expertise can make it difficult for companies to even know where to begin, how much automating will cost, and which vendors to work with

Inflexibility:

High CapEx investments are hard to justify with any level of uncertainty over long-term production requirements. The possibility of change within even a 4 year time horizon can introduce serious risk of high future repurposing costs, or worse, an expensive robot sitting idle

Risk and Unforeseen Expenses:

Automation deployments can bring risk and a range of costs that are difficult to predict, ranging from minor to catastrophic
Formic's model removes all five of those barriers to entry. We make deploying automation fast, affordable, accessible to all levels of knowledge, flexible, and risk-free.
Since we only charge a low hourly rate on system uptime, our model aligns Formic with the interests of our customers. We are incentivized to maximize the ROI of every application we deploy.
To learn more about which types of applications are best suited for automation, please read this post from our VP of Robotics and Co-founder, Misa Ilkhechi.
If you're interested in learning more about Formic's "robot-as-a-service" model, please click this link to get in touch, and follow us on LinkedIn!
Download the Free Guide: How to Get Started with Robotic Automation
Automating with Formic, the only question manufacturers need to ask themselves is: what repetitive manual tasks can be automated in my facility right now?