Georgia Nut is a true testament to the engine of American work, having evolved from humble beginnings as a small shelling and roasting operation in 1945 into an industry-leading provider of wholesale confections, contract manufacturing, and private-label food production services. This remarkable success story has remained within the same family for generations – proof of its enduring dedication to quality products and customer satisfaction.
Before working with Formic, Georgia Nut had no experience with automation in their 75+ years of business.
The Challenge
With a severe labor shortage and high order volumes, Georgia Nut found it increasingly difficult to stay on top of its production schedule. Despite having had automation in mind for years, the performance risk associated with making such an investment prevented them from moving forward until Formic's 'robotics-as-a-service' model presented itself as a viable option - simplifying the process while taking away any residual uncertainty. This enabled Georgia Nut to get started with automation despite having no prior experience with the technology.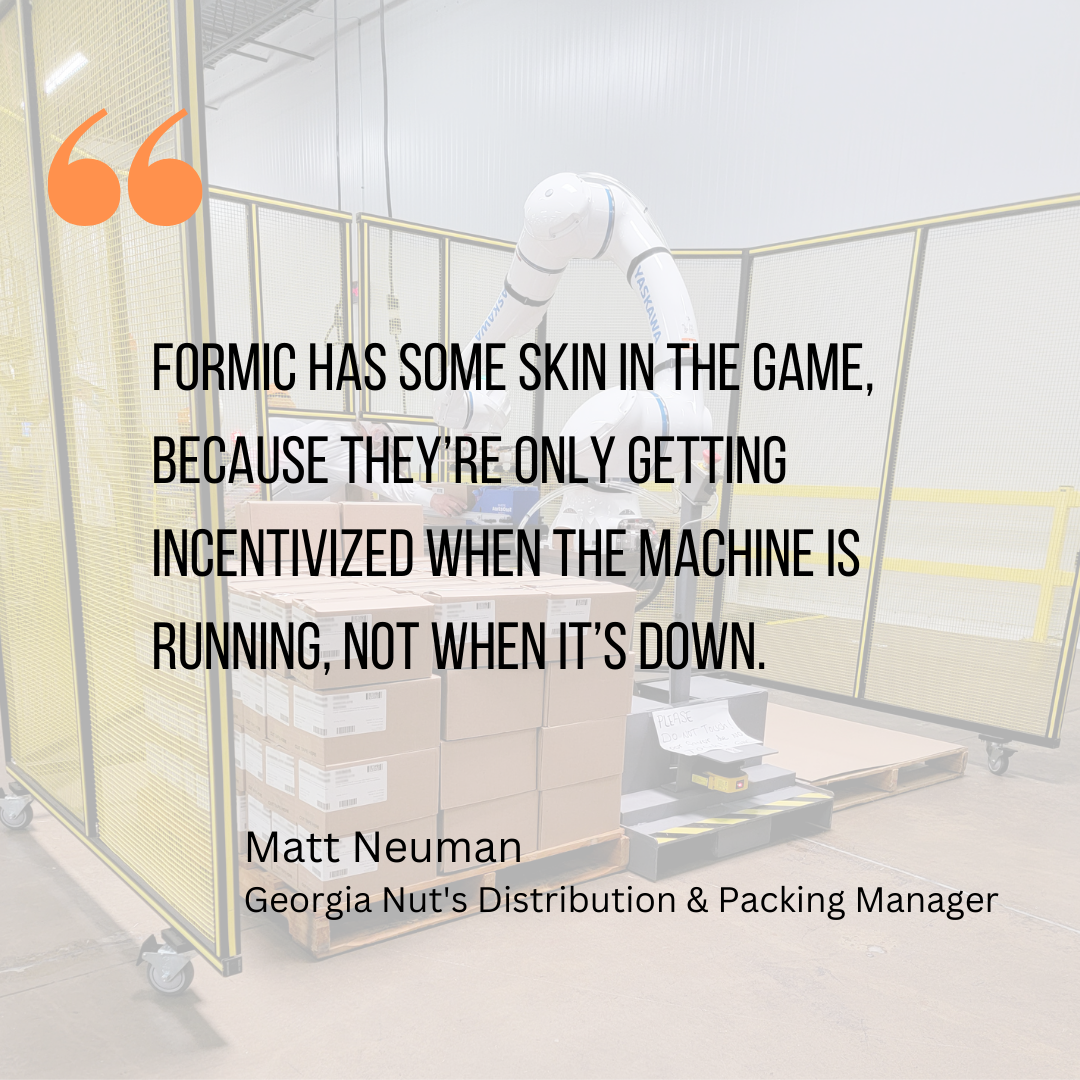 Or, as their Distribution and Packaging Manager Matt Neuman, puts it: "Formic has some skin in the game, because they're only getting incentivized when the machine is running, not when it's down."
To begin, Georgia Nut was looking for support with palletizing across multiple production lines to better utilize their labor resources in other areas of their production facility.
The Solution
To design the solution for Georgia Nut, Formic partnered with Sourcelink Solutions. The solution included an HC20 Collaborative robot from Yaskawa Motoman, a customized end-of-arm tool, a touch screen operator interface, safety scanners, and stand wheels for mobility between different packing lines. Depending on which lines are running on which days, the palletizer can be moved with a floor jack and retasked in less than 30 minutes to maximize flexibility and system uptime.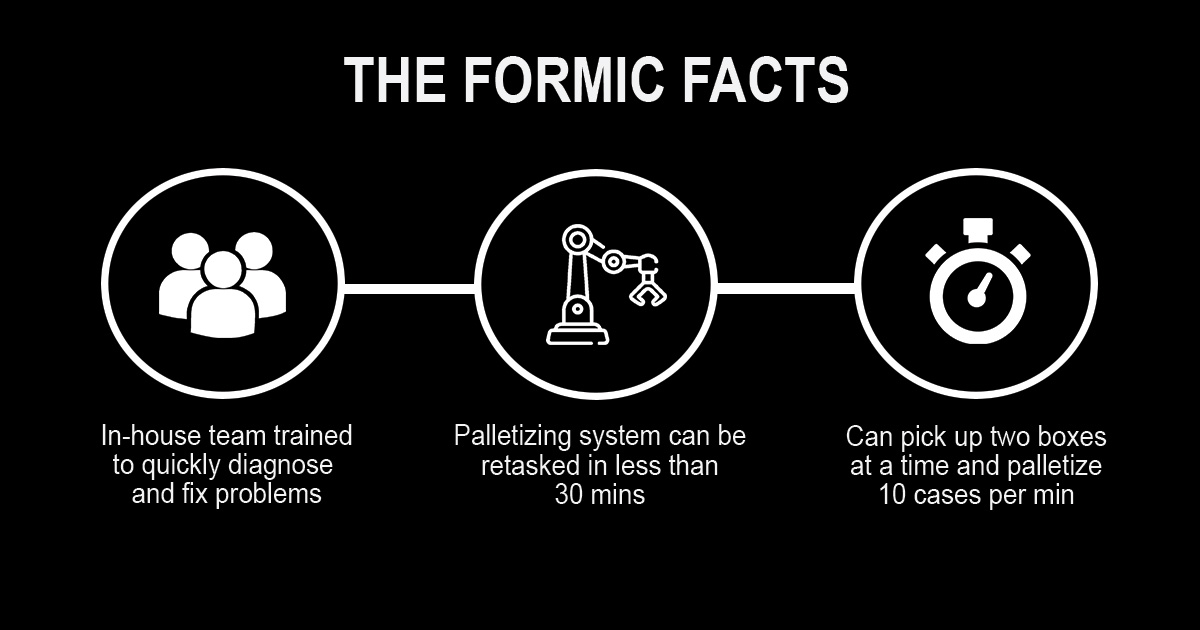 Formic handled all of the equipment procurement, custom engineering, and installation costs, and guarantees uptime and peak performance of the system. If at any point the system does not meet the level of productivity promised, Formic will step in to resolve the issue without any additional cost to GNC.
Neuman added: "We had very limited issues at launch which is very unheard of. And every time we did have an issue, Formic was here with a snap of a finger. Often they were on their way before I even called, and many times, Formic was able to address issues with the equipment remotely."
Despite a few initial hiccups, Formic and Georgia Nut quickly overcame any challenges through devoted attention to detail and rigorous testing. Initially, there were some issues with boxes being taped improperly, which Formic and Georgia Nut addressed. With an eye on performance rather than hours spent in engineering, both teams worked diligently together with the aim of getting the robotic palletizer to deliver exceptional results as swiftly as possible - zeroing out downtime for maximum efficiency.
To ensure their robot was running smoothly and address any potential issues, Formic trained the Georgia Nut team to provide in-house support. This allowed the local team to swiftly diagnose problems within the system and get it back up and running without requiring extra outside help.
The Impact
The results of the palletizer solution implementation have been fantastic. The solution can pick up two boxes at the same time, which allows it to palletize up to 10 cases per minute. The Georgia Nut team can also log in to the Formic dashboard from their desktops or smartphones to monitor production at any time.
The impact on Georgia Nut's business has been immediate and sustained. In Neuman's words: "The robotic palletizer has really helped us reduce an individual at the end of the line… and we haven't had to shut down a line since we implemented (the system), just because everything we're running, we're able to reduce that to one person."
Georgia Nut is transforming its production process through automation, allowing them to repurpose labor for higher-order tasks and reach its goals faster. We are proud to partner with them as they continue exploring ways in which technology can further improve operations and productivity.