Manufacturing accounts for roughly 12% of the U.S. economy and totals more than 600,000 businesses. Although large enterprises like Magna or Jabil often come to mind, the reality is that most American manufacturing businesses have fewer than 30 employees and many of them are private and family-owned.
In the Midwestern heartland of Goodland, Indiana, 3D Machine Inc. is one of those businesses, helping a broad mix of customers with high-quality parts machined by the latest CNC technology. Founded in 1996 by brothers Tim and Dave Deno, 3D Machine has been on a steady growth path since its inception, expanding its facilities, technological capabilities, team, and customer base.
While the use of advanced CNC machines and processes have become commonplace for 3D Machine, automating other manual tasks with robots was an intimidating concept until recently.
Through a partnership with Formic and integrating a Formic machine tending solution in late 2022, 3D Machine has seen some key impacts: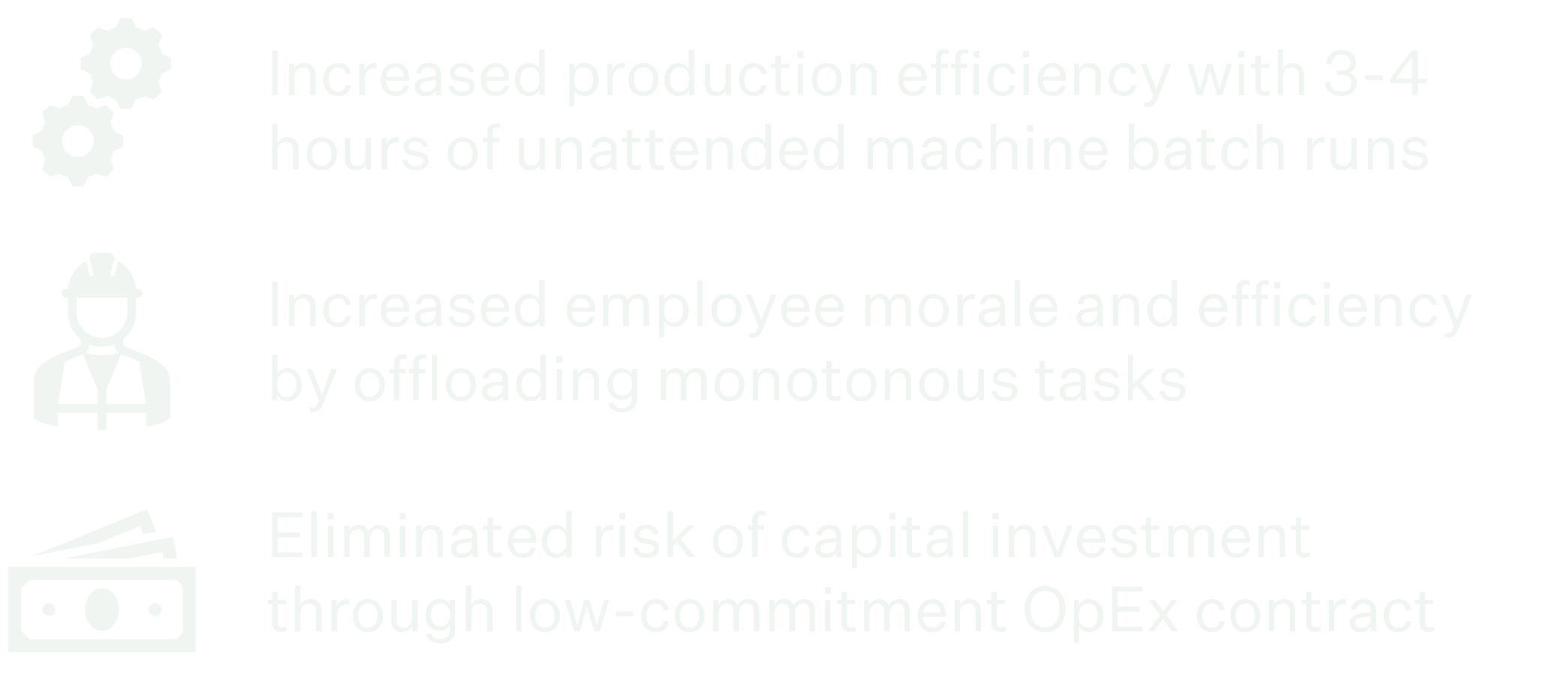 The Challenge
One of 3D Machine's highest volume production processes required a lot of intermittent and repetitive manual touch, resulting in inefficiencies and high costs. This is the classic challenge with CNC machine operations.
"CNC machining is all about spindle time. When manufacturers don't automate their machine tending process, they have to physically plant a person next to the machine all day just to ensure it's always running", said Misa Ilkhechi Formic's Co-Founder and VP of Products and Partnerships.
For 3D Machine, this particular job involved manual operation of a Mori Seiki lathe machine and a Haas CNC machine, where attempted timing of loading and unloading both machines was drastically inefficient. Not only was it wasting production time, but the operators did not enjoy the job.
"Our operators never looked forward to running this job," said Tim Deno, Co-Founder and President of 3D Machine. "It was difficult to keep them motivated and excited about running this station every day."
To boost efficiency and alleviate some of the labor challenges, Deno had been considering automation for a few years, but that was a challenge in itself. In addition to the common hurdles to automating, contract manufacturers face the added barrier of uncertainty with future orders and the corresponding automation needs.
"We have great relationships with our clients", said Deno, "but our forecast for orders is limited to about 12 months out. It's too risky to invest in automation when those orders might decline or disappear."
The inflexibility, capital costs, and risk of automating is why most contract manufacturers have not yet automated with robotics. However, when Tim Deno heard about an alternative automation approach with Formic, his perspective completely changed.
The Solution
With zero capital investment, 3D Machine integrated Formic Tend(™), a machine tending solution that's tailored to their needs, only costs a low hourly rate during usage, and contracted for a low-commitment 1-year timeframe.
The Formic Tend robotic solution automated their previously manual process of their lathe and CNC machine operation. Instead of relying on inconsistent manual operators for this job, their production now benefits from robot operators that have precise repeatability, higher reliability, and flex capacity to run more shifts at the end of the day.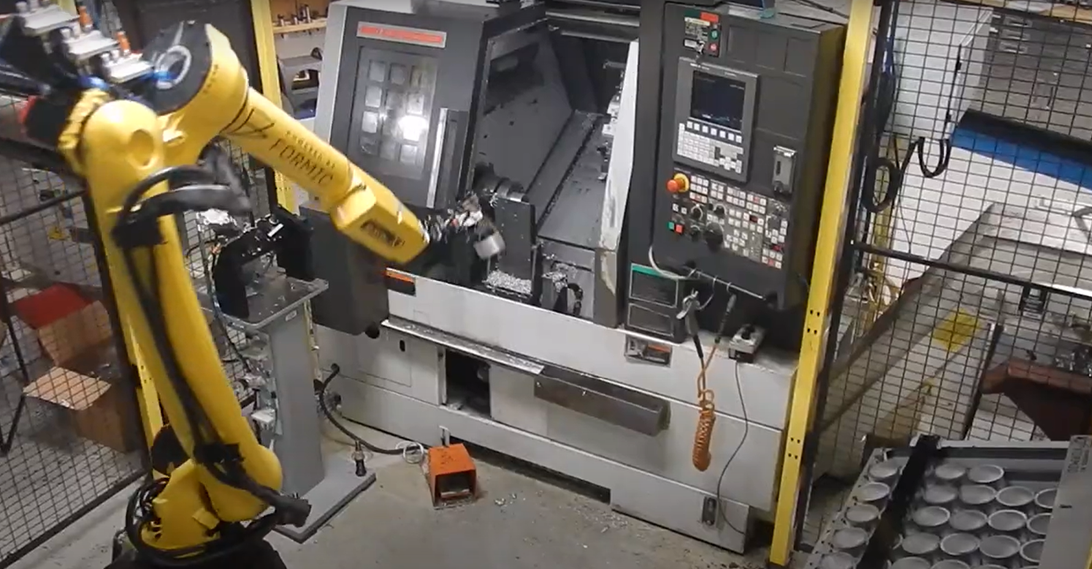 Their new automated process is:
A manual worker will load the input magazine with raw aluminum rings.
The Fanuc M-10iD robot picks the aluminum part and loads it into the Mori Seiki Lathe.
When the Lathe process is complete, the robot unloads the part and sets it in the shear station to knock off the remaining raw stock.
With the lathe process completed, the robot then loads the Haas CNC machine for the milling process.
Upon the Haas completion, the robot unloads the finished part to the output magazine.
The entire process then repeats.
3D Machine's automation deployment with Formic goes well beyond the equipment. Formic's service includes a contractual performance guarantee, derisking them from issues that could arise at initial installation or anytime during production usage.
Formic also provides a suite of post-deployment services: a dedicated customer success team, 24/7 remote monitoring and support, lifetime maintenance, and equipment repurposing services. All these services are included in 3D Machine's flat hourly rate.
In other words, 3D Machine is paying for boosted productivity. They paid nothing until the system was on their production floor operating as promised, and if the system stops performing due to maintenance issues, they stop paying.
The Results
Since installation, 3D Machine has accumulated roughly 2,000 production hours with their Formic system in the first half of 2023. Not only is the robot machine operator yielding more consistent output versus human operators, but it has increased their production capacity by 25%.
Similar to other manufacturers who successfully integrated robotic systems, Deno and his team have been happy with the promised benefits of automation. "What's great is that our team can now set up the system, click 'run', and walk away. Not only can we use those people for other jobs, but we're getting an extra batch of production at the end of the day."
While productivity benefits of automation are almost always possible, they don't always materialize with traditional automation purchases. For Deno, addressing that risk head on was a big selling point of Formic. "Formic allowed us to automate without worrying", he said. "Their hands-on and performance-based approach to working with us has been great."
Looking forward, Deno is excited about the next chapter in their company's history. Following his brother's retirement in 2014, he has led the company for the past decade and continues to push the boundaries of their shop, adding new cutting-edge machines and capabilities. Deno sees robotic automation as a natural evolution of their existing company growth, with Formic being a unique means of that evolution.
"We see this (Formic) as a competitive edge. We now feel more confident in what we can do with automation," said Deno. "We look forward to bringing in more automation, further increasing our production quality, and lowering costs for more customers. It is truly an exciting time for our company."